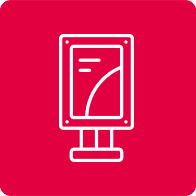 Sales support materials unlimited in form and content. See how to create the best solutions.
Creating POS materials
The theory is simple – Point of Sale materials should be creative and non-standard, they should attract the consumer's attention, they should be appealing in colour and nature, they should inform.
Do your current POS materials have all this?
At STUDIO FORM we create POS materials which delight, reach hearts and make memories.
Are you ready to make changes in your materials?
Please come to our office.