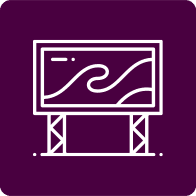 Well planned out-of-home campaigns can still help your brand stand out of the crowd. We know how to carry them out.
Outdoor & display
Outdoor marketing is still effective, especially when it is part of an integrated campaign. Today's media offers new technologies and formats – to create something unique, to awaken creative thinking. The trick is to make 100% use of the opportunities that outdoor marketing creates, in order to reinforce the message of an integrated campaign at times when our consumers are out and about.
Our offer for outdoor marketing includes:
EVERYTHING – from billboards to digital print outs, from advertisements on public transport to any place that people go.
EVERYWHERE – from motorways to city streets, airports, shopping centres.
ALWAYS – 24 hours a day, dynamically, in motion – in order to get noticed, always.