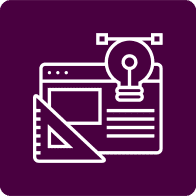 A good idea for an integrated campaign is one that WORKS! Find out what we can do.
Integrated campaigns and creative work
The world is changing every day, but no matter whether you create directly for consumers, work in a B2B environment, or are taking on the challenge of a start-up, advertisements will ALWAYS be a key element of the communication MIX.
What's changing? The fact that an advertisement MUST be even more effective and measurable than ever before.
The secret of an excellent campaign is finding new and exciting people, in order to attract, to stand out from the crowd and to integrate, using available media and communication channels. Don't spend your budget on measures that won't work. Let us create a strategy for an integrated campaign that does work.
We'll find solutions for your brand that not only drive demand but also influence brand awareness, consumer engagement and improve business results. All this with the help of traditional and digital media.
EVERY CAMPAIGN WE CREATE IS CHARGED WITH ENERGY, MARKETING LOGIC AND CREATIVE MAGIC.