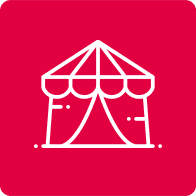 At any time or place. Creating the event, equipment, event scenery, marquees, concerts, family picnics, sporting events, promotions.
Outdoor events
Let us make a little noise, and grab your guests' attention. Let our team of technical wizards think up something really new and exciting.
We'll combine creative talent with modern technology and prepare an event which will really make an impression its guests. We offer a comprehensive service for outdoor events – from building the event location, the marquee (with no size limits), electricity supply, technical solutions and event support. We can organize concerts, culinary demonstrations, picnics, urban events, safely and professionally.