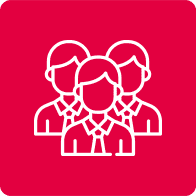 Solutions that lead to success for an event. Get to know our team and let us take care of yours.
Account servicing
Perfect management, effective planning, organisation and precise logistics. What's more – practical operational know-how solutions and event management by the Account Servicing Team.
Every event is the perfect result of our team's care and attention. We provide all of our knowledge and experience and a qualified team who take care of every detail. No flaws are allowed! This is what guarantees success and peace of mind for our Clients.
Come and see how we work.