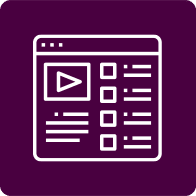 Lights, camera… action! Video marketing is one of the most important tools of the year.
Video Marketing
Do people prefer to watch videos or read texts? Definitely to watch videos!
Video marketing is currently one of the most important internet campaign tools.
Thanks to modern technology, VIDEO production has never been simpler.
What's most important is a solid action strategy for this channel, establishing goals and what you want to show the viewer, and what you want to achieve. If the film reaches the right people at the right time, they will fall in love with what you are doing and – you hit the bullseye!
Shall we start?
LIGHTS, CAMERA, ACTION!