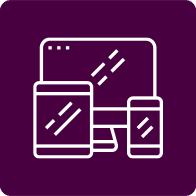 MOBILE is at the heart of digital marketing. Consider it today.
Mobile
Investing in MOBILE is more important now than ever – people are using their phones and tablets more and more, even when they are near a computer.
We run complete scale checks, to find out how to make the best use of MOBILE applications.
We look into the technical requirements, we establish what the content should be and what the possibilities are. We integrate what we do on MOBILE with social media networks.