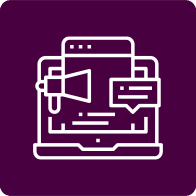 Start communicating on social media in a way that will boost your company's development and internet image.
Integrated Social Media Marketing
Add SOCIAL to your company. The whole world has adopted social media sites for good. The biggest challenge for both consumer and B2B brands is to find solutions that significantly increase their profits through their presence on social media. We know what these solutions are and we will happily share them with you.
We do everything you could expect – channel and community management, Facebook, Twitter, Youtube, Linkedin, blogs, social media advertising, product strategies with activity reports.
Most importantly – we are certain that this works! We combine strategic thinking with the heart of the whole process, all so that we can maximize results.