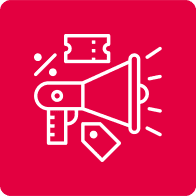 We start with the strategy and finish with effects. We will tell you how to create effects fast.
Effective advertisements
Will the mountain really not come to Mohammed? Does Mohammed always have to come to the mountain? At STUDIO FORM we break rules and we don't trust stereotypes.
We create ideal messages, which, combined with the idea and the right communication channels, will create the results you expect. Sometimes even better ones.
If you want to stand out from the crowd, let's be in touch.