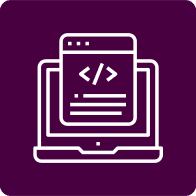 Taste, originality and functionality - decide on the best website!
Websites that are friendly and easy to use
What's the goal? To create a wonderful website – creative, beautiful and full of character. Functional and technologically up-to-date.
We offer unique solutions, which you simply will not find anywhere else. We know how to give your brand a fresh, attractive and clear website that supports what it does. A website that helps your business develop.
– we will outline and define the aim of the new website, related to your companies business mission;
– we will find your website's place in the European internet market;
– we will enhance the brand's strong points and name them in the design;
– we will program the webpage so that it stands out from the rest;
– at the building stage we'll prepare a strategy for promoting the site on the internet – it has to be noticed!